Almond Chocolate Pudding Pie with Fresh Berries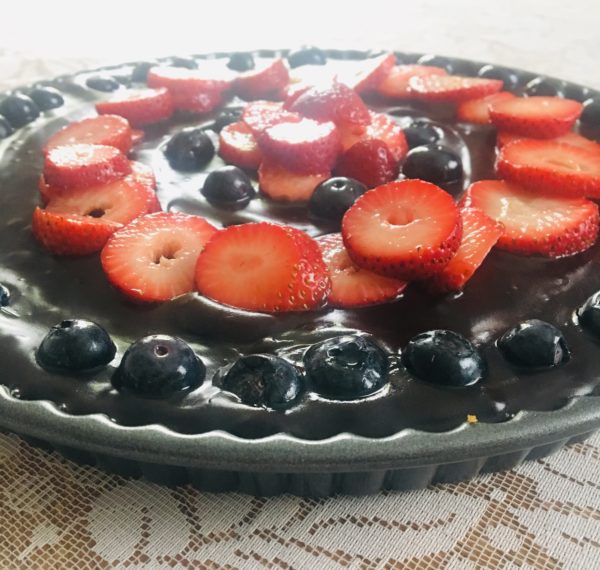 "All you need is love. But a little chocolate NOW and THEN doesn't hurt"  – Charles Schultz
Today's treat is a creamy dreamy pudding pie with a twist. A super simple no-bake and non-dairy style dessert made with simple real-food ingredients and only takes moments to create in your own kitchen. No oven needed to bake the pie (only the crust) and not much fuss. Besides the fresh beautiful berries placed on the surface, I incorporated dark chocolate chips, cocoa powder, bit of sweetener to the mix and just a pinch of corn starch for an extra velvety stable texture.
Now, if you are a chocolate lover like myself i believe you will find this enjoyable. If you are not fond of being in the kitchen for hours, this recipe is just for you. With only a few ingredients on hand, hardly any fuss in the kitchen, and no oven required at all. You can create your own style of pie for your loved ones at home. On my blog i have quite a few berry style pies and this one is one of my go-to desserts. Especially with berry season around the corner, we love to hand pick them at our nearby farms. It's a nice outdoor activity, so sensory, and loads of fun.
I hope you enjoy this recipe. Feel free to look at my other recipes and other wellness inspirations on my blog @ Rachel's Basic Bites. Any questions at all, feel free to comment below or ask me via messenger.  Now i would love to ask you what's your favorite local farm to go picking and most favorite berry?! Do tell…..foodies want to know. So let's proceed to the details of this yummy recipe treat.
CHOCOLATE PUDDING PIE WITH BERRY TOPPING RECIPE
SERVING: 8-10
INGREDIENTS:
1 homemade or prepared 9 inch cookie crust pie
3 cups almond milk, or preferred non-dairy or dairy
1/4 cup corn starch
1/3 cup brown sugar
3 tbsp cocoa powder
pinch sea salt
3 tbsp chocolate chips (semi-sweet or dark style)
INSTRUCTIONS:
First preheat the oven to 350 degrees. Place pie crust on a cookie sheet; let bake in the oven for about 8-10 minutes. Remove from the oven and let cool.
Meanwhile, combine the first two ingredients in a medium saucepan; whisk until dissolved. Whisk in the remainder of the ingredients of sugar, salt and cocoa powder. At first it may look clumpy, but natural. It will dissolve eventually.
While stirring frequently, bring to a slow rolling boil in order not to burn the chocolate. Keep an eye on it. Once it is brought to a boil you may see how it thickens; let cook for about 7 minutes until more viscous. Add in the chocolate chips and mix until blended. Then remove from the heat. Set aside.
You should have your pie crust all set and place the chocolate mixture into the pie plate with even distribution. Allow to let it cool and place a circular parchment shape over the surface of the chocolate so it doesn't form a skin layer. This is the part when you add any toppings as you like to customize your pie. Once cooled place it in the refrigerator for about 3 hours or until fully set.
You may enjoy a slice on a decorative plate with berries and/or whipped cream to complement. Enjoy.
NUTRITIONAL CONTENT: calories 210; total fat 18g; no cholesterol; sodium 36mg; total carbohydrates 14g; dietary fiber 2.1g; suagrs 8g; protein 2.1g; calcium 1%; iron 9% and potassium 5%.
Comments