Blueberry Chia Seed Jam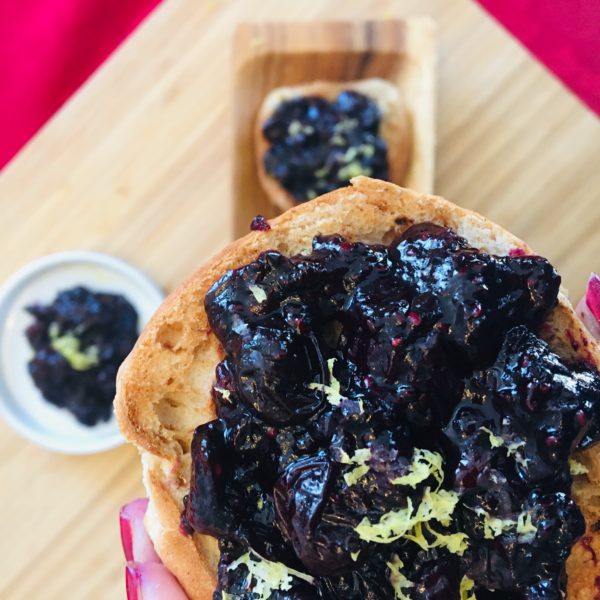 This jam is truly a little powerhouse of homemade goodness! A lovely combination of freshly bursting blueberries, the fragrance of lemon zest, pinch of pure maple flavor and chia seed goodness for a luscious viscous jam. The perfect power couple to boost your brain health, immunity and so heart healthy.
Making homemade jam in your kitchen is super simple and easy to whip up in a matter of minutes. My little one loves to help in the kitchen when i am creating yummy snacks or meals. It's a great way to teach kids about food and self sufficiency while having fun. So get creative and have some fun in the kitchen with your little ones. I'd like to ask you a question, if you have any recipes that you like to create with your kids?
This is such a tasty and wholesome treat without the conventional jams or spreads out there. Most jams are packed full of extra sugars, additives, coloring and/or preservatives to keep it longer on the shelf stores. It's important to look at those labels in what you are buying. Do your best to gravitate towards more natural products when you can and watch out for ingredients you can not recognize or pronounce.
SO ditch the added sugars and reap the many benefits of these lovely seeds to your list. You may find these chia seeds in most organic aisles or natural food stores. You will thank this little gem of a seed in creating spreads, jams, puddings or smoothies. Chia seeds are very versatile and fun to use in baking as well as cooking. When these little guys are placed in a liquid environment they form a gel like consistency which is wonderful for jams. You can also use them to replace an egg in a recipe or add them to oatmeal as a thickener for overnight oats or to make chia pudding. These seeds are loaded with nutrients that provide important benefits for your body and mind. Below are the top benefits of this super food ingredient.
DELIVERING MASSIVE AMOUNTS OF NUTRIENTS WITH LOW IN CALORIES
Back in the day of the Mayans they were prized for their ability to provide sustainable energy. A true fact that "chia" is an ancient Mayan word for "strength". Despite their ancient history as a staple food, chia seeds are just becoming more popular recently. Only a 1 ounce serving of this seed contains 11g of fiber, 4g of protein, 9g of fat, 18% of calcium, 30% of manganese, 30% of magnesium and 29% of phosphorus. Chia also contains other trace amounts of zinc, niacin, thiamin, potassium and vitamin B2. The excellent part about them is that they are considered a whole grain food grown naturally, non-GMO and naturally gluten free.
PACKED FULL OF ANTIOXIDANTS
Chia has a high content of this which helps protect the sensitive fats in the seeds from going rancid. Consuming more foods with antioxidants have positive side effects for your overall well-being.
ALMOST ALL CARBS
One ounce of these seeds provide 12g of carbs, but all 11 of those are fiber in which your body doesn't digest. This makes chia a low carbohydrate friendly food due to it's high soluble fiber content. This seed can absorb up to 10-12 times it's weight in water, becoming very gel like and expanding in your stomach in removing toxins from the body. Fiber helps to feed friendly bacteria for gut health.
HIGH IN PROTEIN
These guys are 14% protein packed of goodness and which are much higher than most plants out there. An excellent source of preotein especially those who eat very little or no animal products.
AIDS IN WEIGHT LOSS
Due to it's soluble fiber which helps with feeling full and satiety. When combined with real food based diet and a healthy lifestyle, chia seeds definitely will promote weight loss over time.
OMEGA 3 GOODNESS
Like flaxseeds chia are very high in omega 3 fatty acids. Although very high in this fatty acid, we as humans are not good at converting into DHA, the most important fatty acid. To get more DHA include either fatty fish regularly or take a fish oil supplement.
HEART HEALTHY
Since they are high in fiber, protein and omega 3 fatty acids, they may reduce your risk of heart disease. A few studies have been shown that these powerful seeds significantly reduce blood pressure in those with hypertension which is a strong risk factor for heart disease.
HEALTHY BONE BOOSTING
These guys are loaded with several nutrients that are important for bone health such as calcium, phosphorus, magnesium and protein. Gram for gram, 18% of RDI in a single ounce is quite impressive. This is absolutely higher than most dairy products.
GLUCOSE STABILIZER
Consistently high fasting blood sugar levels are associated with an increased risk of chronic diseases. Animal studies have found that chia seeds may improve insulin sensitivity and blood sugar control after meals. Something to think about.
REDUCTION IN CHRONIC INFLAMMATION
Although inflammation helps your body to heal and fight bacteria, viruses and other infectious agents can sometimes cause harm and backfire. Various unhealthy lifestyle habits increase your risk of chronic inflammation such as smoking, lack of exercise and poor diet. Certain healthy foods like chia can reduce the blood levels of inflammatory markers.
You now may ask in how to use them lovely powerful seeds into your lifestyle. Read on for more details.
BEST WAYS TO USE CHIA SEEDS
Chia seeds are so easy to incorporate into your lifestyle. You may add them to anything and do not need to be grounded to reap the benefits like flax seeds.
They can be eaten raw, soaked in juice or plant/nut milks, added to oatmeal, puddings, baked goods and smoothies. They can be mixed with water and turn into a gel. Now due to the ability to absorb both water and fat, it can be used to thicken sauces or an egg substitution. Pretty neat, huh? Love them. Adding these beauties will dramatically boost your nutritional value. The most common dosage is about 1.5-2 tbsp of seeds twice per day.
If you haven't used chia seeds already, you should definitely consider adding them into your healthy lifestyle. If you happen to discover recipes on my blog, you'll find a few that incorporate these lovely super food seeds made several ways. I absolutely LOVE them! If you have any questions at all or recipes, you may comment and share your thoughts and experience. I would love to know.
Since knowing more about these lovely seeds, let's scroll down to the recipe shall we.
YIELDS: 8-10 serving, 3 cups of 1-2 tbsp
INGREDIENTS:
3 cups fresh blueberries, organic
2 tbsp maple syrup, pure
1/2 lemon, zest
2 tbsp chia seeds
1/2 tsp vanilla
pinch, sea salt
INSTRUCTIONS:
In a saucepan, over medium heat, add in the first 3 ingredients; let cook until bubbly and fragrant.
Bring to low boil, reduce heat to simmer and add in your chia seeds and vanilla. Let cook for another few minutes to blend and thicken.
Remove from heat and let cool. You may place in a mason jar or an airtight container to the refrigerator. And voila! Fresh homemade jam for the family to enjoy. Super simple and darn delicious!
NUTRITIONAL VALUE: calories 55; total fat 0.8g; sodium 32mg; total carbohydrates 12.4g; dietary fiber 2g; sugars 8g; protein 1g; calcium 1%; potassium 1% and iron 3%
Comments