Comforting Crockpot Tomato and Basil Tortellini Soup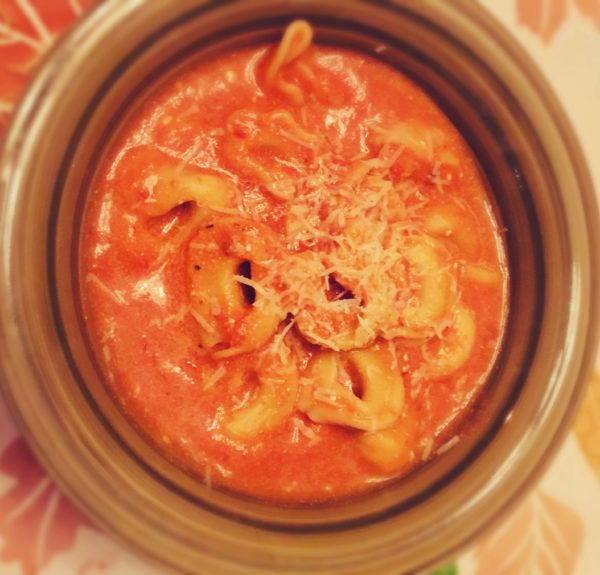 This meal that i have for you today is just right for a busy schedule and on a cold winters day. This recipe does not take much time at all to prepare, made with fresh ingredients and oh so velvety. As you may know, I have quite a bit of recipes on my blog with slow cooking. I mean what is not to like about using a crockpot that permeates the home with aroma and lovely dishes easily created just for two or a crowd, right?! How about you, what are your thoughts about slow cooked meals? I would love to know and other foodies as well.
Now if you happen to have some picky eaters then this dish is just wonderful. My youngest son has an adventurous palate compared to my two older sons whom are quite adamant in what they like or do not like. This meal was an all around two thumbs up in our household. If you happen to test this recipe i would love to hear your thoughts.
Tomatoes, garlic and basil are always a great and wonderful combination in the kitchen. There are numerous dishes, around the world, that are created from these three ingredients from perfection. Not only are they tasty, but powerful. They offer so many health benefits for overall well-being.
BASIL is packed full of chemicals like vitamin C and other minerals that can help with upset stomach, intestinal issues, kidney conditions, fluid retension and even head colds. A great treatment in treating worm infections, snake and insect bites too.
GARLIC is a wonderful ingredient in strengthening the immunity for fighting colds, certain diseases and fungal infections.
TOMATOES are a little powerhouses of anti-inflammatory properties thought to help against some cancers, cardiovascular diseases and chronic lung disease. It's best to combine cooked tomatoes with a healthy fat like olive oil or avocado oil to increase overall benefits of your body's ability to absorb lycopene.
So i hope you come to enjoy utilizing these three ingredients in your home for added benefits in increasing your overall well-being. Now let me share with you this lovely recipe.
SERVES: about 4-6
INGREDIENTS:
2 canned crushed tomatoes
handful of cherry tomatoes
1/4 cup fresh basil, finely chopped
2 garlic cloves, peeled and minced
2 bay leaves
1 small onion, diced
1 tbsp sea salt
1 tsp black pepper
4 cups vegetable broth, low sodium, organic
1-2 cups Parmesan, shredded
ROUX:
2-3 tbsp unsalted butter
1/4 cup flour
1 cup cream (light, heavy or non-dairy milk)
1 package of cheese tortellini (thawed)
INSTRUCTIONS:
Add the tomatoes, sauce, herbs, garlic, onion, seasonings and broth into the crockpot. Cover and let cook for either 2-4 hours on high or 6-8 on low. Stir occasionally if home.
After 45 minutes before serving, either use a hand mixer into the pot or transfer into soup in a bowl to puree until smooth.
Next add in the cream and Parmesan to the crockpot; stir to combine. Cover.
Now prepare your roux in a small saucepan, over medium heat, with melted butter. Add the flour; stir until no clumps are seen. Slowly whisk in your cream until smooth and thickened. Add the roux and tortellini into the crockpot; stir well to combine.
Allow to let it cook for another half hour or so until pasta is ready and cheese is blended. Once served, you may garnish with fresh basil and shaved Parmesan.
Enjoy!
NUTRITIONAL CONTENT: 275 per serving; total fat 9.5g; cholesterol 450mg; total carbohydrates 31.5g; dietary fiber 2.6g; sugars 4g; protein 17g; calcium 30%; iron 7% and potassium 6%.
Comments