Homemade Cranberry Sauce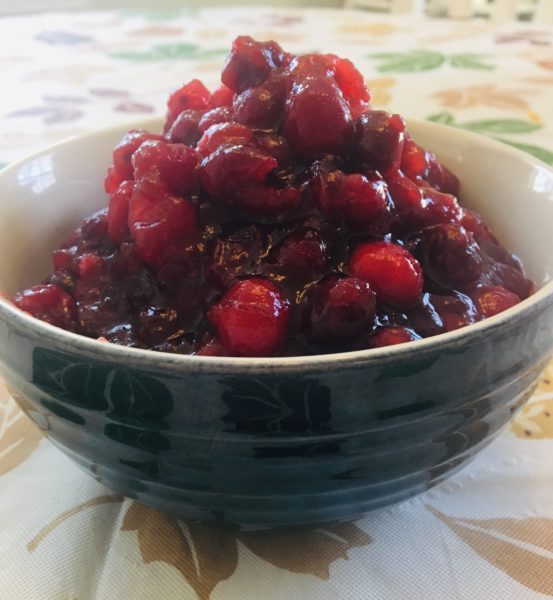 There's nothing better than homemade fresh cranberry sauce to complement your favorite meal around the holiday season. Do you agree?! This recipe is super simple, with the freshest of ingredients, super tasty and can be whipped up in a matter of minutes.
Turkey day is here and I always feel that cranberry sauce gets overlooked because of how the way most people prepare it. Most times it's prepared with the can of cranberry jelly which is heavily sugar laden along with artificial preservatives and more. Don't get me wrong, it's great for when you are in a pinch and maybe used sparingly. But, i must say, the times i have had cranberry sauce that fresh is the best way. I'd like to ask you if you have ever made cranberry sauce and if so how do you like to make it? For myself, i enjoy using a pinch of sweetener, citrus and sometimes a bit of spice. Cranberries are a great way to add a pop of color and brightness in regards to the other heavier types of dishes that come with Thanksgiving dinner. This is also great to make ahead a day or two and normally serves chilled. It's better to double the recipe to use for leftover goodness. Cranberry sauce is one of my favorite side dishes due to it's flavor and versatility. How about you, what is your favorite side dish? Do tell.
You may already know that cranberry sauce is a huge staple food item. But what you may not know that they are a super food and should be enjoyed more often than with the holiday season.
These little beautiful berries that grow on the shrubs are very native to North America. Not only are they tasty, but nutritious for you on many levels. They are very high on the nutritional scale and have lovely traces of good for you fiber. As i said before, it's best to consume them in it's natural state versus the conventional can styles. Below are the many reasons why you need to incorporate these little berries into your life.
HEALTH BENEFITS:
Helps to prevent and treat urinary tract infections and other vaginal issues.
Cranberries are a rich source of calcium and this promotes healthy and strong bones to boot. Also rich in vitamin K.
If constipated, cranberries will help with better relief in digestive area due to it's richness in fiber and anti-inflammatory.
These berries have a positive affect on your teeth in preventing cavities and other oral health. Just make sure it's fresh!
Helps with weight control due to being low in calorie and anti-oxidants.
Regular consumption of the fresh juice inhibits the development and spread of many types of cancers such as breast, lung and prostate.These berries are high in polyphenols.
As you can see from reviewing the many healthy benefits of cranberries i hope you come to enjoy them more often. Not only nutritious, but versatile in many ways. They are wonderful to have raw, dried, added to a smoothie, topped to oatmeal or granola, side dishes, treats or any baked goods. Most times easily available in most markets. If you are a berry lover, i would love to hear your thoughts and if you try this recipe please let me know how it turns out. Alright i think it's time for the recipe down below.
SERVES: about 8
INGREDIENTS:
1 bag fresh cranberries
1 small can cranberry jelly ( 1/2 in recipe)
3/4 cup maple syrup, pure and organic
dash, sea salt
2 clementines, zest and juice
dash, ground cinnamon
INSTRUCTIONS:
In a medium saucepan, medium heat, add in all the ingredients. Combine well and stirring occasionally. Let berries cook on medium heat until it boils; then reduce heat to a simmer for about 15 minutes or until thickened. Remove from stove.
Let cool and set aside. When ready, you may place them in an airtight container until needed or in a decorative bowl to serve your guests. And that's practically it. Enjoy!
NUTRITIONAL VALUE: 8 per serving is 103 calories; carbohydrates 50g; fiber 0.5g; sugars 40g; protein 0.2g; vitamin C 45%; vitamin A 1%; vitamin B6 3%; calcium 4%; iron 1%, zinc 6%; copper 3% and manganese 54%.
Comments