Slow Cooked Beef Stew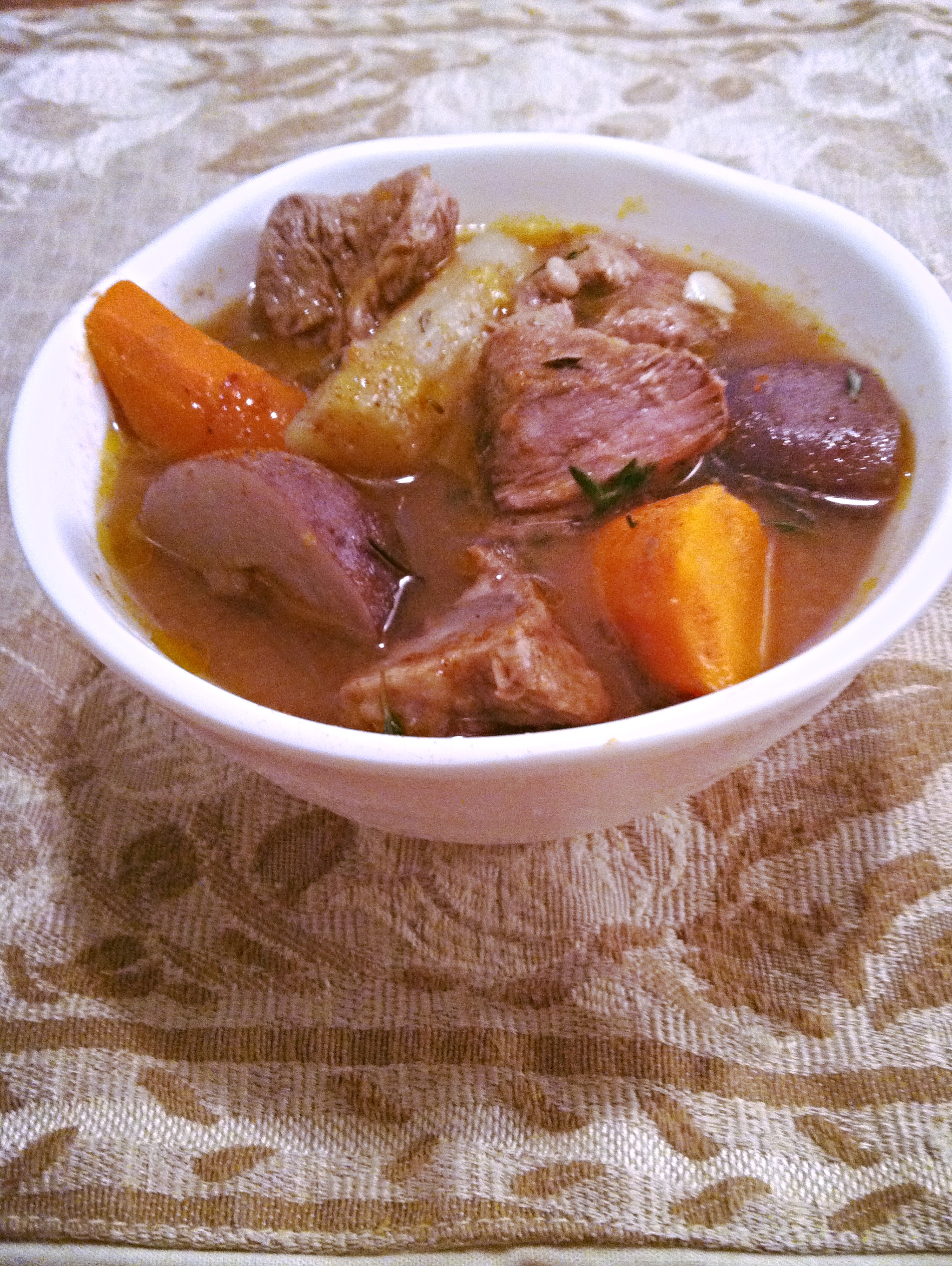 It was a cool and cloudy day, i was inspired to make my usual slow cooked beef stew with my crock pot. It is made with fresh organic ingredients with a smooth velvety texture, full of color and nice flavors that marry well together. A great dish that is hearty, rich and packed full of goodness. I hope you enjoy this simple  super food dish.
Most comfort foods do not score high in the "healthy" department. So, with my Rachel's Basic Bites philosophy i love to replace certain items that are better for you to keep you satisfied and fueled. It is possible to have the best of both worlds, hearty and healthy. Firstly, it is always good to consider portion size. Moderation is key. Next, increase nutrition levels with adding more vegetables and less meat. Also, replace or substitute items that would make the dish more nutritious such as using olive, coconut, or grape seed oil instead of butter. Butter isn't bad for you, but too much isn't great either. You may replace heavy creams with milk, butter milk or plant based options. And lastly, add fresh herbs to enhance the flavors in the dish without increasing sodium levels. Herbs and spices are a wonderful addition to increase flavors, overall health and it's the spice of life. The key to creating this comfort food or any other style is to increase more veggies with less meat. This is still a hearty, flavorful and rich dish that is chock full of good fiber, protein, vitamin C and A.
Serves: 6
INGREDIENTS:
2 tbsp olive oil
2 tbsp organic unsalted butter
1 lb beef stew meat, cut in cubes
1/2 tsp sea salt
3 tbsp flour
3 cup certified organic beef stock, or homemade
1 cup filtered water
2 tbsp tomato paste
1/4 tsp dried oregano
1 lb colored potatoes, quartered
1 cup certified organic carrots, cut in thirds (chunk)
1 cup certified organic celery, cut in thirds (chunk)
3-4 sprigs organic fresh thyme
1 tsp creole seasoning, homemade
CREOLE SEASONING:
2 1/2 tbsp paprika
2 tbsp sea salt
2 tbsp garlic powder
1 tbsp black pepper
1 tbsp cayenne powder
1 tbsp dried oregano
1 tsp dried thyme
Combine ingredients thoroughly and store in an airtight container or mason jar. Makes 2/3 cups.
INSTRUCTIONS:
Place olive oil in the sautee pan over medium heat. Then season the beef with salt, pepper and creole seasoning. Sear the beef for about 2-3 minutes per side (in two batches).
Add the butter, flour, stock, potatoes, tomato paste, herbs, and browned meat to a slow cooker. Cook for an hour. Add the carrots and celery; continue to cook for another 7 hours. Once the stew is cooked, stir in thyme and serve immediately. You may top this over cooked rice. And enjoy!
NUTRITIONAL VALUE: Calories 296; Total Fat 15.4g: Cholesterol 54mg; Total Carbohydrates 19g; Dietary Fiber 3.6g; Sugars 2.8g; Protein 20.6g; It is high in Vitamin A 69%, calcium 6%, vitamin C 31% and iron 16%.
Comments