Spinach, Mushroom and Gruyere Quiche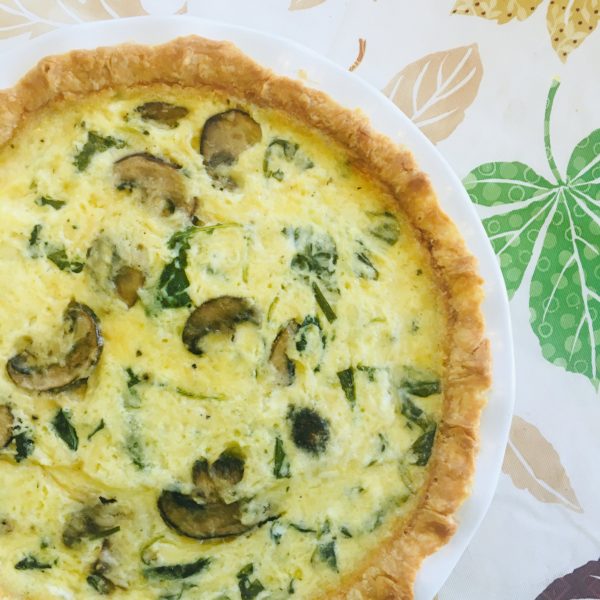 Here is a super simple and savory dish for anytime of the day. This recipe is made with fresh herbs, spinach, mushrooms and Gruyere cheese in this classic french delight with a twist. What I love most about creating my own quiche is the flexibility in the ingredients utilized. How about you, how do you like your quiche? Not only versatile and tasty, but quite easy to prepare for your family or guests. For the pie crust, you may buy the store packaged kind if you are in a pinch or make homemade with only a few ingredients. Normally this dish may be warmed up or just simply cooled. Just have fun and create your own signature pie plate.
This classic dish is one of my favorite kinds with the lovely health benefits of spinach, the cheesy goodness taste and veggies you would like to incorporate to the mix. Now instead of using heavy cream in a typical pie, you may use a lighter version, a plant based style or buttermilk. You may think why buttermilk…..isn't it so fattening. But what you may not know that it is wonderful if you are lactose intolerant. There are numerous other benefits in using buttermilk such as fighting acidity in the body, prevents dehydration, very calcium boosting and many other reasons. For myself, over the years, I've had to eliminate a lot of dairy products due to mild allergies to milk such as developing excess mucus and horrible digestive problems. If you have similar issues like myself just know there are many options out there in the marketplace. the many types of non-dairy items consist nut or plant style like almond, rice, hemp, walnut, hazelnut, oat, coconut and maybe a few others. Also, one simple note is to make sure that the product you buy does not have the additive "Carrageenan" mixed in due to digestive and hormonal imbalances over time. If you do in depth research on this ingredient item you will see the many adverse affects it may have on the mind and body. Just be more aware of the ingredients labels in certain products.
But this recipe is practically fuss free, with wholesome ingredients, and just simply Devine. I hope you enjoy this recipe as much as we do. And if you happen to try it out please let me know how it turned out. So shall we scroll down to the recipe.
SERVES: about 6
INGREDIENTS:
9 inch pie plate and dough style
splash, olive oil
3 eggs
1 1/2 cups buttermilk, or preferred
8 ounces mushrooms, cleaned and sliced
1 1/2 cups Gruyere cheese, shredded
1 tbsp flour
dash, sea salt
dash, black pepper
INSTRUCTIONS:
First preheat the oven to 400 degrees. Bake the pie crust until lightly browned. Remove from the oven and set aside. Reduce heat to 325 degrees.
In a medium saucepan, over medium heat, heat oil. Once heated, add in spinach and let cook for about a few minutes until wilted. Add in the mushrooms and let cook until soft. Drain the pan if needed if too much liquid. Remove from the heat; set aside.
In a large bowl, add in the eggs, milk, veggie mixture and seasoning; stir well.
In a separate bowl, toss flour over the cheese. Add the cheeses to the veggie mixture; combine well. Add in any herbs and slightly mix again.
Pour the mixture into the prepared pie plate distributed evenly. Cover with aluminum foil. Place pie into the oven for about 45-55 minutes or until set in the middle. When cooked, allow to let cool before slicing. Serve on a decorative plate with sprinkled cheese or herbs. Enjoy.
NUTRITIONAL CONTENT: calories per serving 202; total fat 14g; cholesterol 100g; sodium 200g; total carbohydrates 5.5g; dietary fiber 1g; sugars 4g; protein 14.9g; vitamin D 719%; calcium 30%; iron 13% and potassium 9%.
Comments