Super Simple Cornbread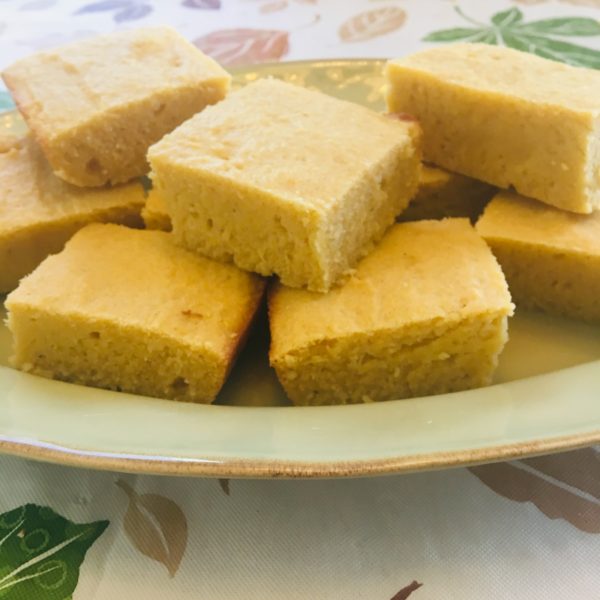 The tasty treat i have for you is absolutely melt in your mouth goodness. I've made cornbread in the past, but nothing like this with it's velvety texture and flavor. So darn good i wish i made two batches of this yummy treat.
I really dislike when i do have cornbread and it's either dry or crumbly. Totally disappointing! The recipe i am sharing with you has a combination of raw honey and buttermilk which gives it's richness and lively flavor.
Cornmeal is a flour made from dried corn. People had switched over to using cornmeal due to wheat crop failure in many countries. Cornmeal is widely available, economical and quite versatile in creating many dishes from breakfast to dinner styles. Cornmeal has three variations from course, medium and fine textures. The course type is great for porridge and polenta, medium style is great for baking and a soup thickener, and the fine grain is primarily used for baked goods. A simple tip is that it's best to keep in the refrigerator for a longer shelf life because most only last about a year. Being that it is a whole grain option it has numerous benefits you may not have known. Below are the many health benefits and uses of cornmeal.
CORNMEAL HEALTH BENEFITS:
Gluten and a complex carbohydrate grain
Contains healthy amounts of vitamins and minerals
Provides healthy skin and vision
Promotes a healthy digestion
A great skin exfoliator in many products
Promotes healthy cholesterol
Prevents enemia
Very heart healthy
Controls hypertension and diabetes
Used to make corn chips, tortillas and tamales.
Also has heat protecting properties too
So, are you a fan of cornbread? If so, how do you like using it? Do tell.
I don't know about you, but i LOVE add a scoop of homemade fresh cranberry sauce over it or a bit of raw honey to dress it up. Oh my….so darn delicious. Can you taste it now?! I hope you enjoy this recipe below. If you happen to try it, let me know your thoughts. Let's move on to the recipe shall we.
SERVES: about 8
INGREDIENTS:
1 cup cornmeal, fine
1 cup flour, all purpose
1 tsp baking powder
1/8 tsp sea salt
1/2 cup unsalted butter
1/3 cup brown sugar
2 tbsp raw honey
1 egg
1 cup buttermilk
INSTRUCTIONS:
preheat the oven to 400 degrees
Grease a square (8×8 or 9×9) pan and set aside.
Whisk together the first four ingredients in a bowl; sir well until combined. Set aside.
In a medium bowl, whisk the cooled butter, sugar and honey together until smooth and thick along with no clumps. Next add in the egg and buttermilk until just combined.
Now pour the wet into the dry until just combined. Do not over mix. Pour the batter into the prepared baking dish. Place into the oven and let bake for about 20-25 minutes or until set in the middle. Place onto wire rack to cool before slicing. And enjoy.
NUTRITIONAL CONTENT: 273 calories (per); total fat 13g; cholesterol 52mg; sodium 244mg; total carbohydrates 35.7g; dietary fiber 1.6g; sugars 11.8g; potassium 4.7g; vitamin D 49%; calcium 6%; iron 8% and potassium 4%.
Comments