Super Simple Pickled Veggies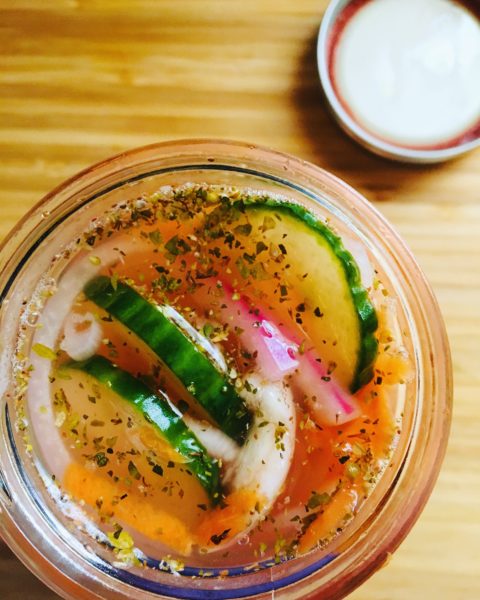 I've done pickling in the past before, but this time i wanted to try something a bit different. This style of condiment is super simple, with only a handful of ingredients and so flavorful. Totally hit the spot!
How about you, what is your favorite type of fermented condiment? And have you experimented in making your own at home? I would love to hear.
This at home recipe is a blend of herbs, carrots, English cucumber, red onion and garlic to delight the tastebuds. This best part about this is that you can concoct your own signature style in experimenting with different vinegar and/or vegetables. This condiment blend is so versatile that you can top this on just about everything such as :
Grilled chicken
Tacos
Seafood
Sandwiches
Burgers (any style)
Rice bowls
And the list goes on! Just get creative, create something wonderful and have fun most of all in making your signature blend. Not only is it good, but good for you in your overall well-being. Below are the many benefits on fermented foods.
Studies have been revealed the importance of microbiome (bacteria that lives within us) is crucial for overall well-being. And believe it or not we are more bacteria than we are human.
When having a balanced microbiome it helps to easily regulate the immune system, our metabolism, supports our mood and brain function, produces vitamins and minerals and maintain a healthy weight. So fermented foods are a great way to do that.
Fermented foods are a natural probiotic due to live bacteria along with many other crucial nutrients needed for our well-being. You can find an array of these foods from around the world such as being fried, boiled and candied. These can be consumed as a main dish, side dish, dessert or a salad. There are fermented drinks like tea, wine, beer, vinegar based drinks and buttermilk.
The most readily available foods in the United States that can be incorporated into your lifestyle are :
Sauerkraut – fermented cabbage eaten through parts of Europe, Russia, Asia and Germany.
Kimchee – A Korean version of fermented cabbage, carrots, onions and garlic.
Kefir – fermented milk drink from North Caucasus.
Yogurt – fermented milk or plant based style consumed throughout central and west Asia, India and central Europe.
Fermented foods are wonderful for your overall well-being. Do you agree? It is also proven that fermented foods can improve many symptoms such as :
Depression
Anxiety
Brain fog
Hormonal issues
Improve immunity
Digestive problems
Reduce cravings like sugar
And fatigue
I hope this was helpful in understanding the importance of fermented foods in healing your gut through making healthier food choices. Remember food is fuel and medicine for the mind and body. It's like having a car with no gas and trying to get to point A to point B. You can not be running your body on empty because it will eventually catch up to you. Do your best to choose wisely. I hope you come to enjoy and experiment in making fermented foods in your own kitchen. Incorporating this into your lifestyle can be an easy process while saving you money.
Now that we know a bit more about the healthy benefits, let's scroll down to the recipe.
SERVING: about 4
INGREDIENTS:
1/2 cup carrots, washed and shredded or sliced thinly
1/3 cup English cucumbers, shredded or thinly sliced
2 garlic cloves, smashed and peeled
1/4 tsp dried oregano
1/2 cup red onion, halved, skin removed and sliced thinly
1 cup vinegar, or preferred
1/2 cup filtered water
pinch of sugar
pinch of sea salt
INSTRUCTIONS:
Prepare your mason for use; set aside.
Start slicing veggies either with a knife or grater. Set aside.
In a medium saucepan, boil water and vinegar. Add in your onion, garlic, herbs, salt and sugar. Stir until the sugar has been dissolved; remove from heat. Allow pan to cool for 10-15 minutes.
Place the veggie mixture into the mason jar; slowly pour the vinegar mixture over the veggies. Allow the jar to cool before placing in the refrigerator and lid. You may have it the same day or wait longer for full flavor. And voila, a lovely condiment to enjoy! It's that simple.
NUTRITIONAL CONTENT: per serving calories 35; total carbohydrates 6g; dietary fiber 1.5g; sugars 2g; potassium 4%; vitamin A 3%; vitamin C 6%; calcium 3% and iron 1%.
Comments